Interconnect any speaker timer or cue light over LAN or WLAN
Control operation from multiple locations
Mix Bluetooth and Ethernet connections
Works with all standard routers and switches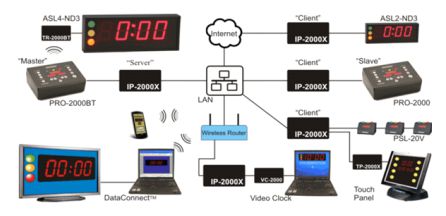 Model IP-2000X is an IP address-configurable serial-to-Ethernet adapter that allows multi-point control and display of Limitimer.
The adapter is configured via a free Windows app that connects to the adapter via USB.
PC-Server is a free Windows® app that uses the power of a Windows computer to serve many client-configured IP-2000X Network Extenders.  (Note: One Network Extender that is configured as a server can only serve a maximum of seven (7) client-configured Network Extenders.)
Data from Limitimer or PerfectCue is introduced into the computer via a USB‒to‒RJ45 serial adapter, (Model VC-2000).