Deliberator is a system which allows members of city councils, community boards, planning commissions or corporate forums engaged in debate or public hearings to self-regulate speaking order and control discussion times in an open and fair manner.
We have temporarily suspended sales of this system due to long lead times of critical parts .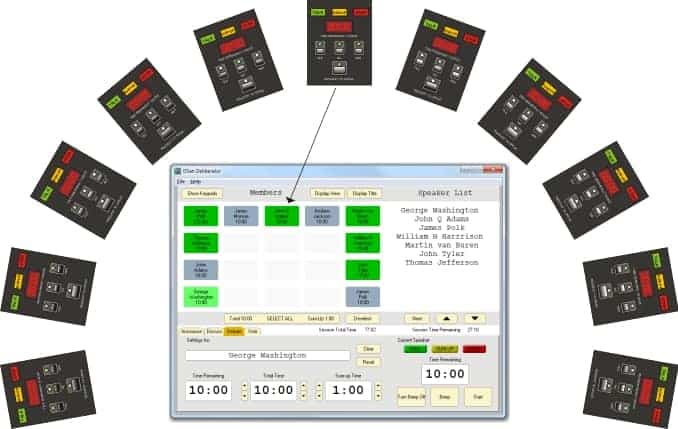 Our system is currently designed for up to 20 members. Each member's keypad is represented by a name box on the console. The application stores information about each member according to the keypad ID: Member Name, Voter or Non-voter, Tie Breaker.
Deliberator can operate in four different modes that suit each activity of the meeting.
Discuss Mode: For untimed discussions,  a member presses keypad to request to speak. A Speakers List displays member names in the order of requests. 
Debate Mode: For timed discussions, set an amount of time to debate a topic — a "session". Each member receives an equal portion —"Total Time."  Time Remaining and position in the Speakers List is displayed. Speakers List and each member's Time Remaining can be saved to a file, so that discussions can be resumed precisely.
Vote Mode: Voting members are displayed on the Members List and votes are saved to files. Results can be imported into a meeting minutes document as a graphic or as plain text.
Announce Mode: Any text information such as an agenda can be displayed and even changed on-the-fly.
Please Contact us at sales@dsan.com to discuss your legislature's needs and to receive a quotation for a Deliberator system.