Remote control
Cue Lights provide wireless remote control of presentations over distances up to 300 feet. There is an option to control the computer directly via USB connection or to give cues to the projectionist. Both light and sound cues are available. An onboard headphone jack can be used for silent operation.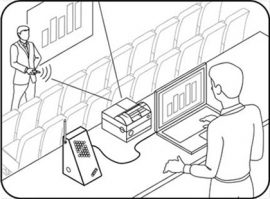 Strong Cues
For a secure setup, connect two cue lights by Cat-5 or XLR cable. Set one downstage in front of the speaker as the Server to receive the wireless command. This triggers the second Client cue light (without wireless reception) in front of projectionist.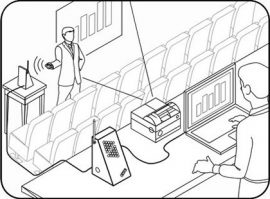 Dual Control
All cue lights have two USB ports allowing two computers to be synced with the remote command.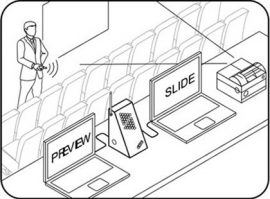 Connectivity
Cue lights can be interconnected with Cat-5 or XLR cable to provide cues at multiple locations.
Multipoint Remote Control
One transmitter can trigger multiple cue lights. Multiple transmitters can trigger one cue light.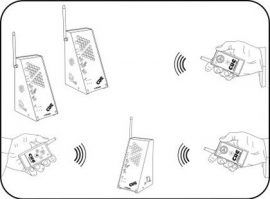 Networking
Cue lights can operate over an Ethernet network*. Up to six Client cue lights can be served by one Server-configured cue light. *Requires IP-2000X-PC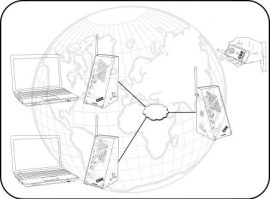 Integration
A user may interpose the cue light (Model PC-SYS only) between the belt pack transceiver and the headphone of an intercom system. PerfectCue's audio cues are overlaid onto the existing communication. Volume controls adjust relative volume of each source.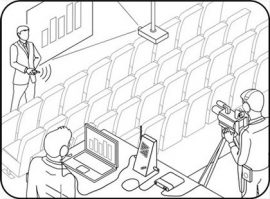 Comparison of Features
Remotely control presentation software via keyboard commands delivered through two USB ports. Maintain mouse functionality.
Connect multiple cue lights via Cat 5 or XLR cable. Only one unit requires power.
Connect hand-held transmitter for hard-wire backup.
Play selectable cue sounds through speaker or sound headphone jack.
yes– 3 sounds programmable
yes– 1 sound programmable
Match cue light and transmitter communications on selectable channels so that cue lights can be used independently in proximity.
Combine intercom audio with cue sounds.
Engage/disengage USB commands.
Transmitter Features
Transmitters - commonly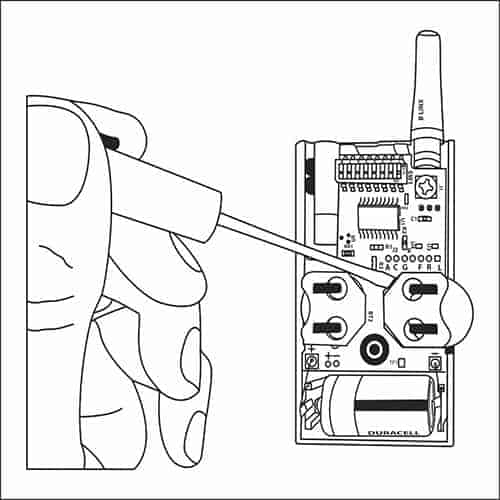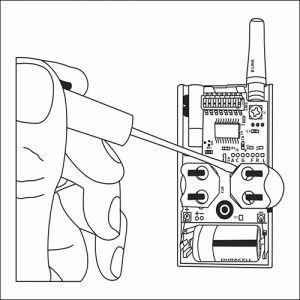 referred to as clickers or remotes - operate on 433 MHz. Range is up to 300 feet. They provide an extremely reliable link to the base cue light.
They can be set to communicate over any of 256 channels so that multiple transmitter-cue light pairs can operate in proximity without interference.
One transmitter may control one or more cue lights. One cue light may be controlled by multiple transmitters.
Power is supplied by two coin batteries (CR2032). These can last for about 50,000 clicks or, assuming 250 clicks per presentation, approximately 200 presentations. Transmitters with integrated laser modules contain an additional CR123 battery. If this battery is exhausted, the transmitter will still function.
These pocket size transmitters fit comfortably in the hands of most presenters. The large Forward button has embossed dots for tactile feedback.
Button graphics suggest functions Next, Back and Blank (but not all transmitters have all functions). These represent keystrokes (Right arrow, Left arrow, B) that are stored in the cue light and are triggered by the serial commands sent by the transmitter. These keystrokes are arbitrary. The cue lights can be programmed with any keystroke - even a null value keystroke. This is the method of disabling one of the transmitter buttons.
Note: All cue light systems include a transmitter.  Extra transmitters may also be purchased separately.